[NOTE: this was originally posted in the Oregon Music News September 29, 2011]
Lajos Balogh, founder of the Metropolitan Youth Symphony, will step down as Music Director and  this June, 38 years after founding the orchestra.
Balogh is a long-time fixture in the Portland music scene, having spent many years as Principal Second Violin of the Oregon Symphony, was a member of the Portland Opera and the North Coast Chamber Orchestra. He is founder and conductor of the Portland Festival Symphony, which gives free summer concerts in the parks, and he conducts the Marylhust Symphony Orchestra.
Born in Hungary, Balogh studied at the Liszt Academy of Music in Budapest, as well as in Munich and Hamburg. One of his many teachers was Zoltán Kodály, who was a composer, ethnomusicologist, pedagogue, linguist, and philosopher. Kodály was especially interested in the problems of music education, and he wrote a large amount of material on music education methods as well as composing a large amount of music for children.
Kodály's influence is obvious in Balogh's own passion for music education. He started MYS in 1974 with just  a handful of students and has grown that program into a wide-reaching musical education institution in Portland. The program boasts about 500 students, nine conductors and 11 groups. And we're not talking about just orchestras, but concert bands, chamber groups, strings orchestras and jazz bands, as well.
This past summer was a banner year for MYS with a tour to Europe.
Here is a little footage from one of their concerts in Warsaw: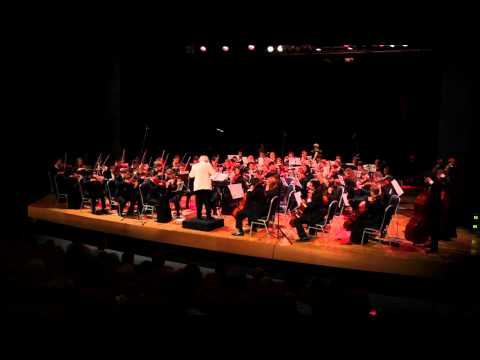 This program is unique in that it is not just a place for very advanced students to play. Kids who have  played for only one year have a place to play here, which is quite remarkable. They are able to start out very young and progress all the way through their high school graduation in the same system, whatever their musical interests may be. Throughout the 38 year history of this remarkable organization, countless string players got their start and cultivated their love of music in this program.
It truly is an organization which emphasizes good citizenship, education and family. It is imperative for the families of the students to support the effort. Rehearsals are on Saturdays, which eats into the weekends for every family involved. That takes commitment not only from the students, but also from their families. And it influences other family members as well, prompting younger family members to follow in their older siblings' footsteps. Executive Director Diane Scoggins confirms that there are 38 siblings in the program at this time.
Although he is leaving the podium, Balogh will become Conductor Emeritus and will continue as a board member, as well as stay involved in advocacy for music education and MYS as conductor of the MYSfits chamber orchestra, which does outreach to underserved communities. He will continue to help grow and strengthen the program, shepherding it along for future generations to learn and enjoy, which is a huge legacy for the Portland area.
The search for the new MYS  Music Director and Symphony Orchestra Conductor will begin shortly, with the goal of filling the post by next spring.